About Astroapollo
---
Astroapollo.net Pvt. Ltd., provides immediate solutions to your problems using Vedic Astrology. We fulfill your need for answers that give clarity and solutions in Finance, Education, Career, Relationship, Business, Health, Children, Family, Travel, Marriage and Partnership.
Astro Apollo.net Pvt Ltd was founded and started in 1995 by Shri. R.K.Eashvar Pillai. He is the Managing Director, Astro Apollo.net Pvt. Ltd.,
Shri.R.K. Eashvar Pillai has various degrees after his name... B.Com., MBA., BGL., M.Sc. in Psychology., M.A.- JYOTHISAM, and M.A. (Sanskrit). He got the First Rank and Got TWO Gold Medals from TELUGU University, Hyderabad (AP) for his outstanding performance and understanding of astrology during his study of M.A.Jyothisam.
Shri R.K. Eashvar Pillai is now persuing his Doctorate of Jyothisam (Ph.D). His research is based on Astro - Psychology.
Shri R.K. Eashvar Pillai comes from a southindian family of astrologers - his grandfather was a renowned astrologer (Late) Shri. G.Rethinam Pillai.
The vast knowledge in the feilds of Psychology and Astrology has helped Astroapollo 'light the lamp' in many families across india and abroad. The remedies prescibed are very simple and effective.
Astroapollo does not charge heavily, the rates are very nominal. We believe in delivering the experiences and knowledge to all segments of the society.
The basic aim of the company is
To promote and standardize astrology and other allied sciences internationally.
To serve the mankind by utilizing the science and making every one aware of all the new developments taking place in this field.
To promote research work in the field of astrology and other predictive sciences.
Provides personal consultancy on Astrology, Palmistry, Numerology and Vastu in person and on net.
New dimensions were added to Astrology by Astroapollo.net by introducing modern techniques of mathematics and computers, has actually programmed computer not only for accurate horoscope casting and correct predictions but has also tested their validity by using advanced mathematics.
---
Photos Of Awards And More Of Shri. R.K. Eashvar Pillai
Receiving Gold Medal From State Governor N.D.Tiwari
with
NVRA Raja
28th All India Astrological
Conference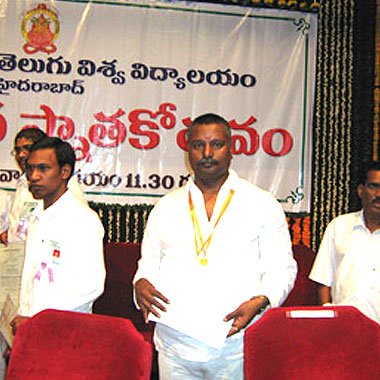 The Gold Medal and
Certificate of Excellence
---